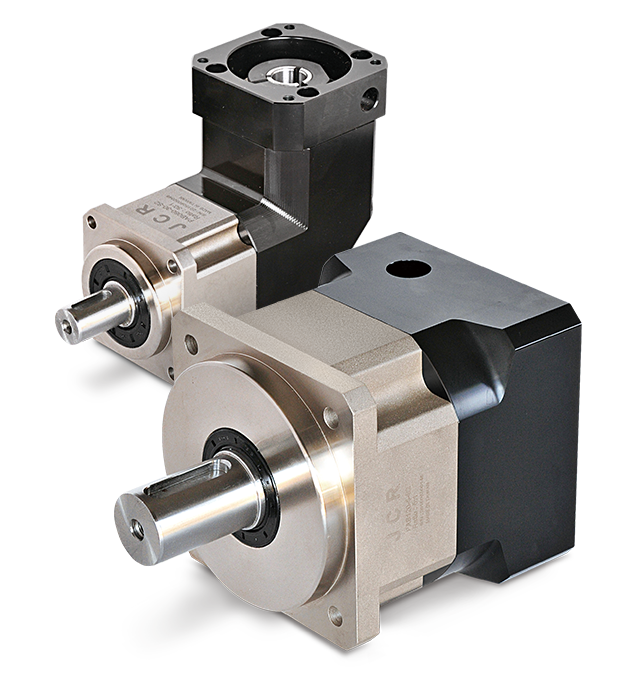 PLANETARY REDUCERS
Features :
● Integrated Planetary Arm Bracket
The planetary arm bracket and the output shaft are one-piece constructed to increase torsional rigidity and accuracy. The entire structure is one-time machined for controlling accuracy in the specified tolerance.
● Collet Locking Mechanism
The input-end and the motor are coupled through a collet locking meshanism. It has passed dynamical balance analysis to assure concentricity and balance on the connection and no backlash for power transmission while running at high speed.
● One-piece Gear Box & Advanced Surface Treatment
The gear box and internal gear ring are onepiece constructed, which is made by Cr-Mo alloy steel, and tempered for high torque output. High gear accuracy meets DIN6 class standard. Gearbox surface is anticorrosive treated for upgrading environmentalresistant and corrosion-resistant capability.
● High Precision Gear Machining
The planetary gear and sun gear are made by high quality Ni-Cr-Mo alloy steel (SNCM220), precision machined and carburized. Precision teeth grinding assures gear accuracy reaches DIN6 class. It provides better wear resistance, impact resistance and longer service life than gears with only surface nitrided.
Indication of Model Numbers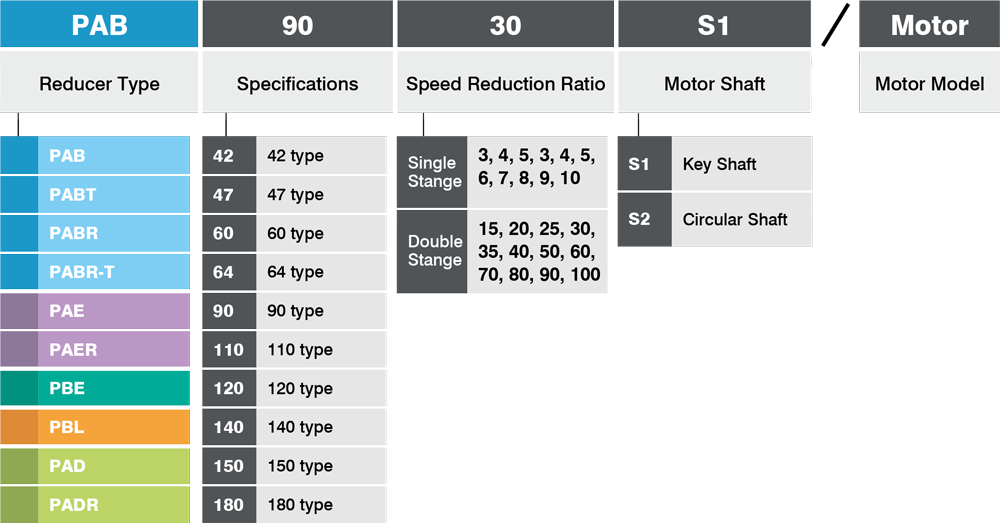 PAB Application Examples
PAB series PDF
PAB-1

| | |
| --- | --- |
| Frame No. | Speed Ratio |
| 42, 60, 90, 120, 150 | 3, 4, 5, 6, 7, 8, 9, 10 |

PAB-2

| | |
| --- | --- |
| Frame No. | Speed Ratio |
| 42, 60, 90, 120, 150 | 15, 20, 25, 30, 35, 40, 45, 50, 60, 70, 80, 90, 100 |

PABT-2

| | |
| --- | --- |
| Frame No. | Speed Ratio |
| 42, 60, 90, 120, 150 | 15, 20, 25, 30, 35, 40, 45, 50, 60, 70, 80, 90, 100 |

PABR-1

| | |
| --- | --- |
| Frame No. | Speed Ratio |
| 42, 60, 90, 120, 150 | 3, 4, 5, 6, 7, 8, 9, 10, 14, 20 |

PABR-2

| | |
| --- | --- |
| Frame No. | Speed Ratio |
| 42, 60, 90, 120, 150 | 15, 20, 25, 30, 35, 40, 45, 50, 60, 70, 80, 90, 100, 120, 140, 160, 180, 200 |

PABR-T

| | |
| --- | --- |
| Frame No. | Speed Ratio |
| 42, 60, 90, 120 | 15, 20, 25, 30, 35, 40, 45, 50, 60, 70, 80, 90, 100, 120, 140, 160, 180, 200 |